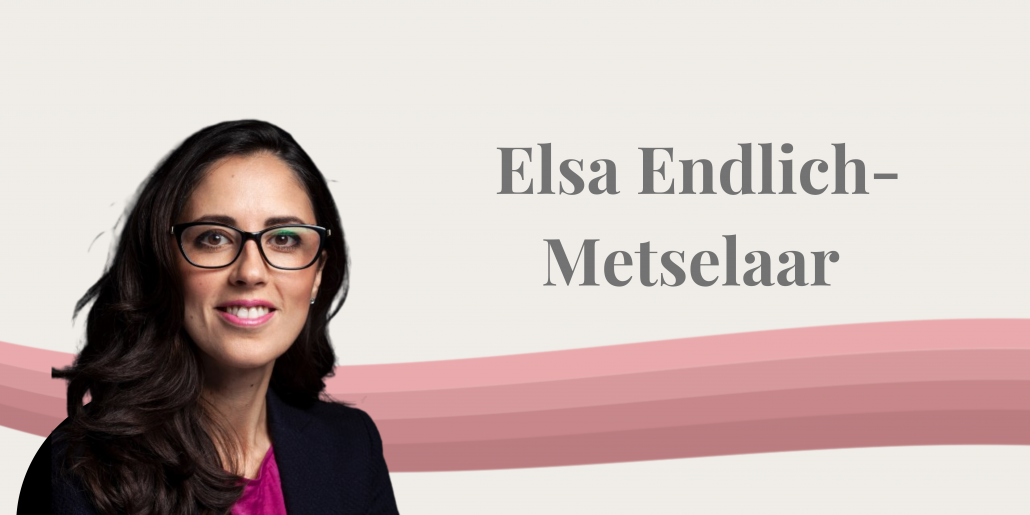 First of her family to attend university and now head of the HR Centre of Expertise of NN Investment Partners, this week we sat down with Elsa Endlich-Metsellar, an inspirational leader.
When she was 2 years old, Elsa and her mom packed up and moved to the Netherlands all the way from Portugal. At the time, this was not the easiest of transitions and changing her last name to that of her Dutch stepfather's so as not to be known as the "foreigner" had its impact on her self-esteem. Nevertheless, this experience is what has given her such drive and passion for the work that she does and sparked her interest in Diversity, Equity and Inclusion (DEI). 
"I always try to build teams with individuals from different backgrounds because, first of all, you can learn a lot and second, those teams are high performing."
Elsa's interest in DEI translates into the work environment Elsa aims to create for her team and within her organisation. The below visual takes you through a few key elements that can help any leader create an inclusive and open environment.
Elsa's advice on "How a leader can create an inclusive and open environment":
The leader talks last.

Instead of giving your opinion immediately and thereby impacting how the rest of your team reacts, wait and let them share their own ideas first.

Understand the various types of people in your team and ensure everyone has a voice.

As Elsa calls them, there are some "eager beavers" that like to shout out the loudest. It is therefore paramount that leaders also give room to quieter, more introverted teammates. In virtual settings, using the chat function for example can be more comfortable for those individuals to share their thoughts.

See challenges and mistakes as learning opportunities and ensure this mentality is shared with your team.

As a leader you must avoid the "blame and shame" reaction and rather provide a platform for your team to reflect and learn how to do better next time.

Have a common purpose.

To create this, ask questions like: "what do we want to be known for as a team?", "what qualities do I bring with me as a leader and what qualities do my teammates bring?". By creating and understanding a common purpose you create a sense of belonging.

Create a culture of accountability.

Give one another proactive "feedforward" as opposed to "feedback". What do you appreciate and what ideas do you have for your teammates?
Elsa is not a fan of describing a woman in leadership as a female leader: "you wouldn't refer to a man in leadership as male leader". Nevertheless, she recognises that when it comes to leadership, both are not always treated the same. She once took part in a leadership program, and received positive feedback on how she was dressed rather than on her leadership capabilities. What sounded like a compliment at first made her realise that she has to work harder to receive recognition for her talent and achievements, as do many other women. Nevertheless, Elsa highlights that the differences in treatment that men and women encounter in the workplace are not always so black and white. 
"We only make about 5% of our decisions consciously, so if we want to see more women in leadership positions, then we need to be conscious and change the existing structure within organizations, so that bias doesn't come into the judgement and decision-making process."
Now we've spoken a lot about women. What about the men? Well, "men have an important role to play in all of this", whether that be in the professional or personal context. Equality in the workplace can only be attained when all hands are on deck which is when men also value equality in the workplace and value women's aptitude and leadership abilities. On a personal front, Elsa is a mom of three, and in her marriage, her career and her husband's are equally important; they work together to balance work and family life, which is often an element that hinders women in their career advancement. 
Ultimately, what does Elsa want to see happen for women in leadership in the coming years? "That women become more aware and confident about what they bring to the table and get the rightful recognition in their organizations." 
***
Our next #SheLeads blog will feature Ute Hamelman, a woman in leadership with a passion for innovation. Follow the Female Hub on Instagram, Facebook and Linkedin to stay updated!
https://thefemalehub.com/wp-content/uploads/2022/01/Content-November.png
1080
1080
The Female Hub
https://thefemalehub.com/wp-content/uploads/2021/08/Female-Hub-Powered-by-DO-300x120.png
The Female Hub
2022-01-11 10:10:34
2022-02-02 14:46:46
#SheLeads: Elsa Endlich-Metselaar