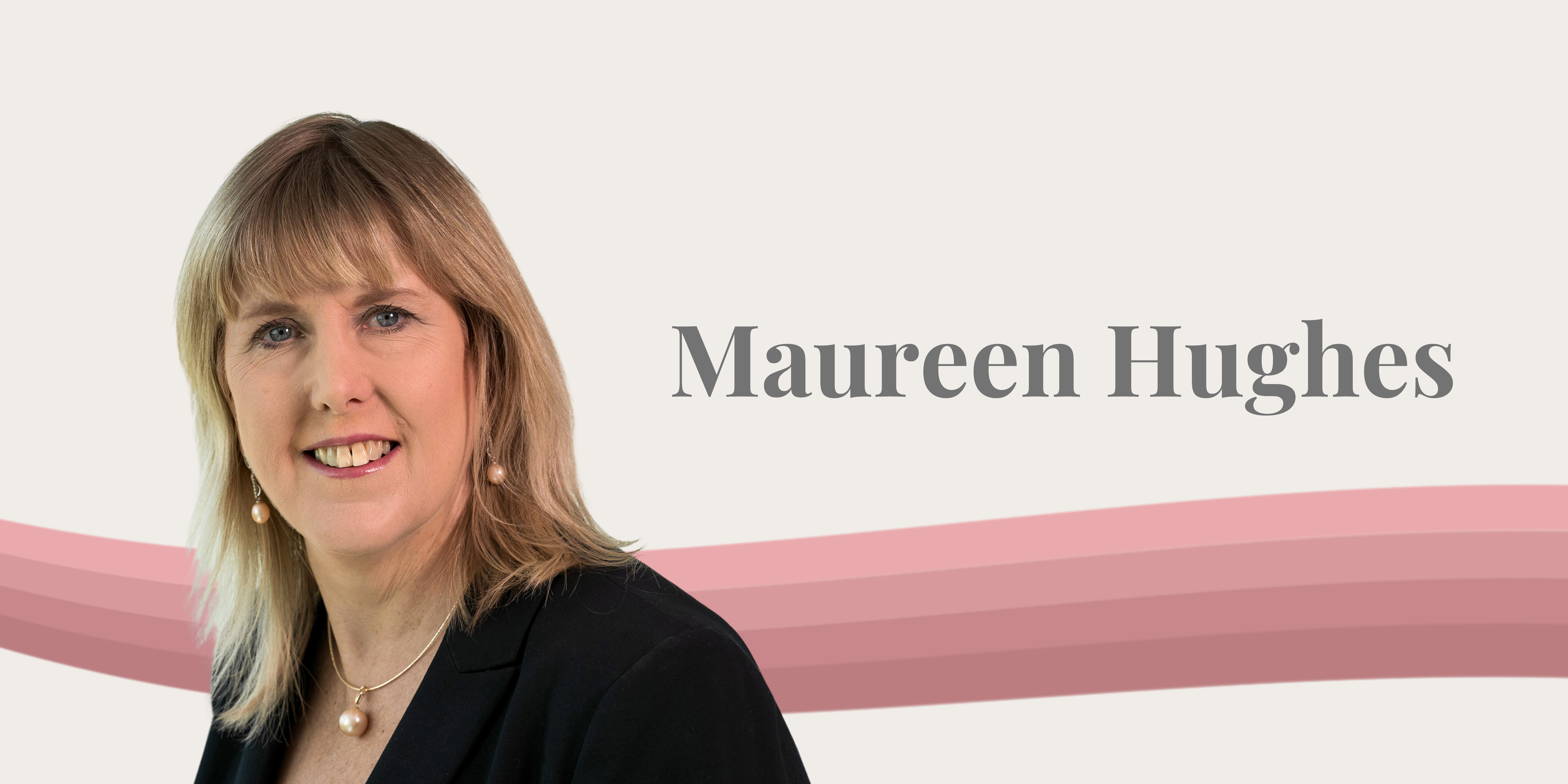 Maureen Hughes was the first female partner in Consulting at EY in The Netherlands back in 1999! Quite impressive, don't you think? With big achievements also comes experience, growth, and challenges. Keep reading to learn more about Maureen's impressive leadership journey and benefit from things she learned along the way!
"Always strive if you can, to be financially independent, it empowers you, it gives you choices, it gives you freedom."
Being financially independent is one lesson which Maureen found to be very important. Upon moving to the Netherlands, she had no job, no network, and she did not speak the language. Nonetheless, she made the bold decision to move to the Netherlands in order to be with the love of her life.
Maureen's situation upon moving to the Netherlands resulted in her taking the first job which she was offered, even though that meant taking a job which she did not enjoy and did not pay well either. At this point however, her need to be financially independent was more important than anything else.
So, what can be taken from this? Life will throw obstacles your way, and not everything will always go according to plan, but in that there is growth and opportunity. For Maureen, being financially independent allowed more freedom and choices for the future of her career, and that is why sometimes at the beginning you simply take what you can get. Remember, becoming financially independent is not an overnight process.
Maureen continued applying for other jobs with the aim of becoming an international consultant as she didn't speak Dutch at that point. Again, she adapted and adjusted to the best of her ability, and this is important to note as these are moments which have shaped her journey as a leader. She started her career in consulting working for the company EY, wherein she became the first female partner within 3 years.
Considering her career journey full of major changes and challenges, Maureen stressed how important it is to "choose your life partner with great care." Because in order to have a great career, you need a "true supporter in your fan club."
Although this might sound all so dreamy and ideal, it wasn't at all as perfect as it may seem. At this point in time, Maureen was working full-time internationally with a very young son. This was very difficult emotionally as she could only see him on the weekends. And when her boss informed her that they would be putting her name forward for partner, at first, she said "no way".
"My amazing career came with a price tag; it didn't come for free."
When the topic of her becoming a partner was brought up, Maureen did not want more responsibility, considering the amount of work she was already doing. However, her boss countered this by saying "Maureen, you're actually already doing the job of a partner, so why don't you just accept the title and get the money that goes with it?". However, this was not the only factor at play. Maureen also felt the pressure of being the first woman partner, as this would mean she would become a role model for future female leaders. Quite nerve-racking, right? She was doubtful whether she would be good enough and fearful that she would make mistakes. Eventually, her boss convinced her of the reasons why she should go for it.
What can be taken away from this experience? Sometimes getting out of your comfort zone is needed to reach greater heights! Also, don't underestimate the value that you bring to the table, often you may be bringing a whole lot more than you think and above all believe in yourself!
"For us to be successful as women leaders, we need strong sponsors."
This is another one of Maureen's learnings – having a senior mentor who truly believes in you is of great importance, especially when you don't believe in yourself. Later, she was hired by Deloitte as a direct entry partner. At that time, Deloitte was not yet very diverse, and this meant being the only woman in an all-male senior international team. This also led Maureen to wonder whether they had only appointed her as a global leader to be seen as more diverse, rather than believing it was based on her abilities.
"When I started the role, I thought they were all smarter than I was."
She was in fact well-qualified for this position, yet still did not believe in herself. Have you ever doubted your capabilities and questioned your "right to play"? After 4 years in this role, she was ready to pass it on. However, her team all insisted that she stay as they found her the most knowledgeable. Do you recognize this in yourself too?
"It was quite confrontational for me, because I realized how much of myself I had lost in the struggle to survive in a male-dominated environment."
In 2001, Maureen was only one of two female partners in Deloitte Consulting, and both were external hires. In 2011, a whopping 10 years later, there were 0 new female partners. This lack of progress sparked Maureen to set up the Deloitte's Women's network in The Netherlands to support and promote women.
This led Maureen to realize that sometimes you need yourself to be the change, for the change to happen. Not only did she give back by helping women within the industry, but she also gave back to herself. She decided she needed to invest in developing herself, her mindset and self-awareness – which she had completely ignored. Therefore, she started to formally educate herself as a coach at the age of 50. Deloitte Partners are required to constantly coach their teams and she felt it was past time to properly learn these skills to improve her internal coaching at Deloitte. However, she also had to confront things in herself, the leader and person she had become, which she did not like.
"I quickly became known as the woman who was continuously on this soap box about inclusiveness and diversity." 
She preferred to help those that were "different" and this meant anybody who was not a white, Dutch, straight, extrovert man. In other words, this gave her a rather large scope of people to coach. In 2019, she retired early in order to fully focus on her passion for supporting and developing others through coaching and training.
Maureen's journey can be described as inspiring to say the least, but most importantly it shows the reality of what she went through to get where she is today. So, what can you take away from this? Don't give up and remember life will take you through paths which might not be what you want at that moment but maybe it is what you need to reach your goals. Being a woman in leadership is not always easy, but with hard work, perseverance, and strong sponsors you can be the change that you want to see. This most definitely proved to be true for Maureen.    
***
Did you enjoy this blog post? #SheLeads will be back with more inspiration in March! Stay tuned on our social media to know more.
https://thefemalehub.com/wp-content/uploads/2023/02/Featured-image-Template-.png
1080
1080
The Female Hub
https://thefemalehub.com/wp-content/uploads/2021/08/Female-Hub-Powered-by-DO-300x120.png
The Female Hub
2023-02-01 09:33:35
2023-02-01 09:34:43
#SheLeads: Maureen Hughes