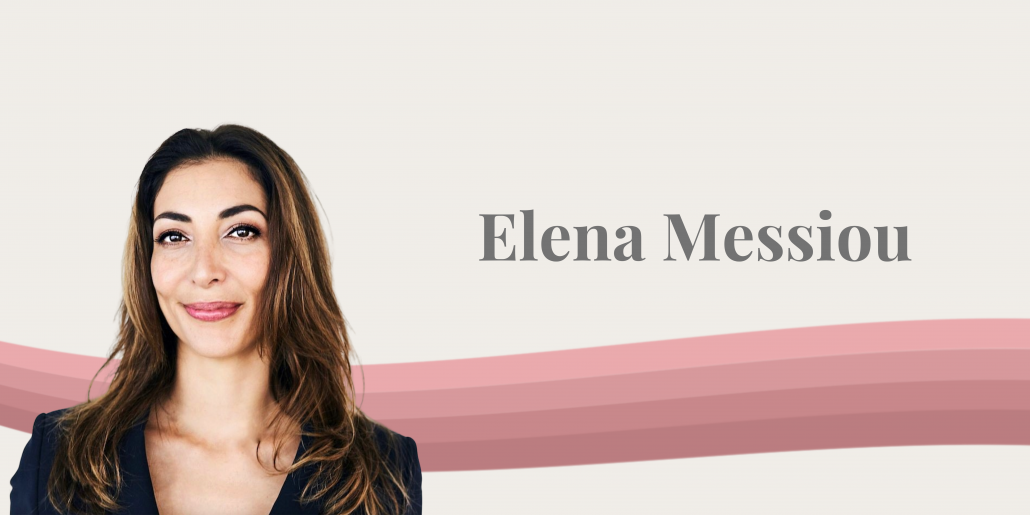 From a masters in Global policy and public affairs to being a communications consultant to a learning and development manager, an entrepreneur and now a lecturer and DEI consultant, Elena Messiou has experienced a variety of different jobs throughout her career, with a guiding principle driving her forward: having a job that has an impact on people. 
"What I knew for sure was that I wanted to have a job where I would have an impact on other people's lives."
Growing up in Cyprus, Elena's parents instilled in her a value that she still holds close to her heart in everything she does nowadays; to make sure that her actions positively impact others. Going further into what this means for her, we found out that Elena considers the other in the broad sense of the term, whether that is an individual, animals or the environment, she strongly believes that whatever she does must benefit more than herself solely.
"Of course we're not all the same and we don't come from the same opportunities. I believe that to be where you are, somebody has helped you, has opened a door for you."
Elena was not born with a silver spoon in her mouth, but privilege is something that she acquired throughout her life through her own hard work and dedication, but also through the help of a strong support system and network that opened doors for her that may have remained shut had it not been for their assistance. And so was born another one of Elena's values and driving principles: to be someone that can create opportunities for others, in fact, she believes that is the role of a leader, to open doors for others, and share their privileges.
Throughout her career, Elena found herself in some male-dominated environments, which she learned a lot from. One of her most inspiring managers was a man who she now considers a good friend. With him, she experienced firsthand the benefits that an individual's energy and positivity bring to the office and the impact it has on people working with them. She also saw the value of treating each individual as such; on an individual basis, taking the time to understand them and letting them have a voice, and showing up for them when it mattered. These are all traits Elena admires and respects, but she also believes that each person is different, and that individuality and unicity transpires in leadership. As a leader herself, she values giving individuals the freedom to do things in the way they want, supporting  them when needed, and letting them do what they feel is right. 
"I would recommend to new leaders to address diversity with an intersectional approach."
Along with occupying a variety of positions, Elena has also lived in a variety of different countries. When she arrived in the Netherlands, she realized that her last name did not help her while looking for a position. This is something that she wishes to see change. Indeed, Elena harbored an interest in diversity and inclusion, and through a conversation with a friend, realized that it was something that she could pursue in her work. There it was, another door opening for her! With diversity and inclusion, Elena hopes to see equitable opportunities for individuals from all walks of life and different backgrounds. When looking towards diversity and inclusion for women in the workplace, she hopes that leaders will take an intersectional approach, considering gender along with the other factors that make up the individual, such as their ethnicity, sexual identity, age and so on to ensure that all women are offered equal chances. 
What is Elena's advice for leaders? To keep on exploring. The more you learn, the more you realize that you don't know as much as you thought.
***
Our next #SheLeads blog will feature Elsa Endlich-Metselaar, a woman in leadership with a passion for Diversity in teams. Follow the Female Hub on Instagram, Facebook and Linkedin to stay updated!
https://thefemalehub.com/wp-content/uploads/2021/11/Content-November-1.png
1080
1080
The Female Hub
https://thefemalehub.com/wp-content/uploads/2021/08/Female-Hub-Powered-by-DO-300x120.png
The Female Hub
2021-11-29 12:08:59
2022-02-02 14:30:57
#SheLeads: Elena Messiou