13feb(feb 13)7:00 pm(feb 13)7:00 pmFood For Thought Sessie (Diner)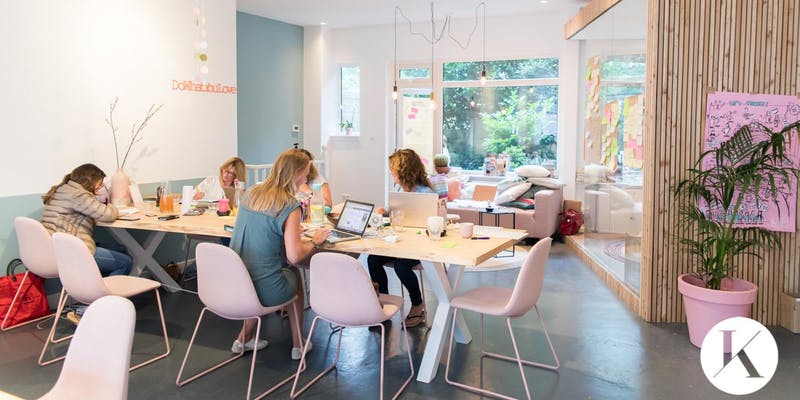 Event Details

"Don't be afraid to be open minded, your brain is not going to fall out".

Bij Doors Open Female Hub gaat het om van en met elkaar leren! Daarom organiseren wij weer onze bekende brainstorm sessies; Food for Thought. Wist jij dat eten de hersenen stimuleert? Daarom organiseren wij brainstorm sessies tijdens ontbijt, lunch en diner. Je gaat samen aan tafel met andere vrouwelijke ondernemers en professionals om nieuwe inzichten, perspectieven en ideeën op te doen.

Waar gaan wij over brainstormen?

Dat is helemaal aan jou! Iedereen krijgt de kans om hun verhaal, vraag of uitdaging te delen. Word jij zenuwachtig als je een potentiële klant moet bellen? Ben jij opzoek naar nieuwe ideeën over hoe jij jouw product kan gaan lanceren? Of heb je moeite met jouw work-life balance en wil jij weten hoe anderen daar mee omgaan? Wat het ook mag zijn, wij garanderen dat jij hier de deur uitloopt met een buik vol heerlijk eten en een hoofd vol inspiratie en motivatie.

Wie organiseert deze sessies?
Doors Open Female Hub, de nummer 1 coworking & co-learning werkplek voor vrouwen in Den haag, organiseert deze sessies. De sessies worden begeleid door een expert in brainstorming. Dus maak je maar geen zorgen, ze zullen zeker weten hoe ze jou hersenen en learning mindset kunnen activeren.

Programma

19.00: welkom deelnemers in de Hub

19.10: openen

19.15: start diner en 1ste breakout sessie

19:55: pauze

20.05: 2de diner sessie

20.45: afronden

Prijs

€15. Dit is inclusief een heerlijke gezonde diner.

Maximum aantal deelnemers

Om te zorgen dat iedereen met zo veel mogelijk inspiratie en motivatie de deur uit loop, en om te zorgen dat we iedereen hun gedachtes, ideeën, vragen en/of uitdagingen kunnen behandelen, is het maximum aantal deelnemers 8. Dus zorg dat jij nu jouw kaartje koopt!
Time

(Wednesday) 7:00 pm - 9:00 pm