Hi, I'm Hedda and I work at The Female Hub! Since yesterday we have started working from home as well, like probably so many of you. I know for many working from home sounds like a dream come true. You can wake up later, spend the day in your jammies and have more time to do other "boring", but still important things like laundry, groceries and other household chores.
Unfortunately for me, that is not the case. Working from home offers too many distractions for me to be even remotely productive – between snacking, Netflix, lying in bed and my favourite, "procrasticleaning" (this is a real thing, read more about it here), I lose my concentration fast. Admittedly, the complete silence is nice sometimes but I miss talking and sharing ideas with my colleagues and hubbers.
If you are reading this blog then chances are that you, like me, have been asked to work from home the coming days or weeks. And maybe, just like me, you are also wondering how to cope with this new development. Nevertheless, it is important in difficult times to practice gratitude, and I know we all at The Female Hub are extremely lucky and grateful to be able to work from home. So, to make the upcoming days and weeks as productive and fun as possible I have come up with a tips & tricks list on how to make a productive home office
1. If possible, set up your home office in a separate room
I know Dutch houses are generally on the smaller side and so you might not have a separate room for a home office, but try maybe clearing out your storage room to make space for a desk and a chair (as long as it has a window in it!). If you really don't have any spare room then set up your home office on your dining table, preferably on the side of the dining table that you don't eat on. This division will help you create a mental separation between meal-times and work hours. Also, treat your home office the way you would your regular office as well. Make sure to keep it clean and tidy and make the effort to come in dressed in regular clothing and make-up (if make-up is normally part of your routine). This will also help your brain get in the work mode mindset.   
2. Have a weekly planner by your side
Another thing I know many people struggle with when working from home? The lack of clear schedule and routines. Humans thrive on habits and clear schedules, and working from home often interrupts that as you are not bound to physical meeting times like clock-ins, lunch hour and clock out times. Your schedule is suddenly driven by yourself, and for many it becomes challenging to stick to it if no one is there to hold you accountable. For this reason, I bought myself this cute weekly planner and filled in the "check-in times" (when I start working), my lunch breaks and my "check-out times" (when I round off the day). I keep one weekly planner by my side in my home office so I can always see my schedule, and one in the kitchen that shows me which days I need to clean & do laundry (avoid procrasticleaning this way!) and my meal plan for the week.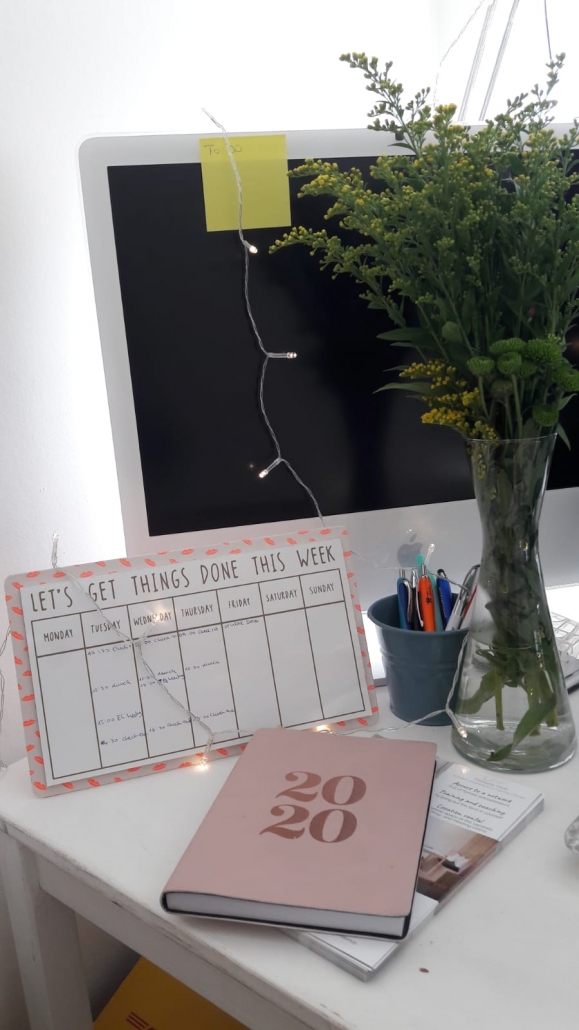 3. Limit distractions
Scheduling, Routines, Habits. I cannot stress these words enough. Working from home requires more discipline as we are alone and no-one is watching us or holding us accountable. Block specific hours for various tasks, schedule in and take your breaks and set up a habit for yourself that you can only do home chores such as laundry or cleaning after 5pm. If you need a break go for a short walk around your neighborhood or call a friend or family. Do not, I repeat, do not start watching a Netflix show, endless YouTube videos or scrolling for hours on Instagram. I know it's tempting to just sit on the couch the whole day but you will likelygo down a spiral of unproductivity. Instead, make a habit of only watching Netflix, YouTube or Instagram in the evening.
4. Don't just make it nice, make it you!
The one main advantage of working from home is that you get to play interior decorator and design your new home office just the way you like it. For me this means, lots of stationery (think post-its, pens, clips), fairy lights, some plants and some earthy green candles (some indoor forest bathing to help me relax). Do you like bright, bold colours all around you or a sleek, minimal look? The world is your oyster the next weeks so make the most of it! Now is also the time to support your local flowershops and invest in some air purifying plants. Not only do plants make you happier and healthier, but studies have shown that they can even increase your productivity. Click here to read more about the best plants for your home office.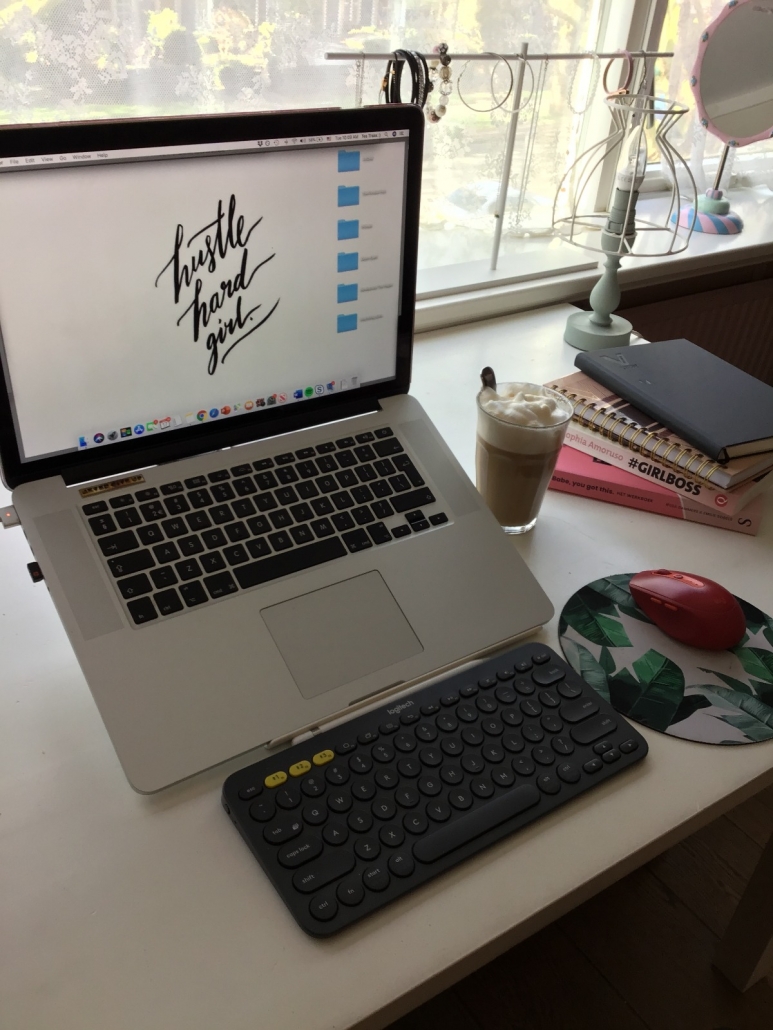 For Tes it's really important to have lots of natural light and a clear desk! What is important for you in your home office? Send us a photo or let us know in the comments!
5. Be social
Humans by nature are very sociable creatures and social distancing is a serious blow for many. You might not believe it now, but community and connectivity is just as important in your home office as your laptop, desk and chair. Therefore, even though we from The Female Hub team will be working from home we will still have our daily meetings together – virtually – and have made sure to amp up our communication efforts during these times. In practice this means a fixed check-in meeting at 9 am and check-out meeting at 4:30 pm using Zoom, as well as whenever other things need to be discussed. Check out different tools and technology to help you interact with your clients or colleagues and set up regular virtual meeting times each day, even if it is just a five minute coffee break. Look out for our next blog post where we will talk more about the best way to communicate virtually and give recommendations on which tools to use!
But it is not just about communication, but also about community. While we practice social distancing, it is important to find ways to check in with each other, share our knowledge and experiences and genuinely be there for one another. For this reason we will still have our daily lunches together but they will be virtual from the comfort of our homes. In the upcoming weeks will host virtual community tea times, e-books, webinars, brainstorm breakfasts and more. Leave a comment below or drop us a DM on Instagram if you have any ideas how to stay connected, how we can all support each other or simply to share a picture of your home office! We are curious to see how you designed yours!
It is important for us to support each other and stay as a community, now more than ever!
The Female Hub Team  
https://thefemalehub.com/wp-content/uploads/2019/04/Doors-Open-Female-Hub-Coworking-5-vragen-Productiviteit.jpg
801
1200
Hedda
https://thefemalehub.com/wp-content/uploads/2021/08/Female-Hub-Powered-by-DO-300x120.png
Hedda
2020-03-17 14:53:20
2022-02-02 14:34:15
Working from home? How to create a productive home office environment